About A Glass Eye and Three Wooden Legs
Stephen Hall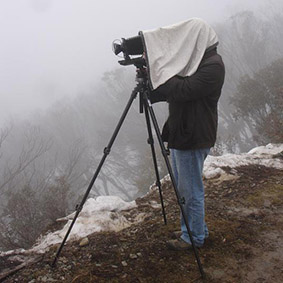 My fascination with urban night & low light photography is part of my continually evolving relationship with the landscape. I am primarily a landscape photographer and I see streetscapes, buildings and modified environments as another aspect of the landscape, and I explore the world around me and depict the moods it inspires through the camera.
I use mainly Black & White film and a large format (5"x4") camera to get the highest quality images possible. Large format photography requires a slow and contemplative approach to image capture which best suits my attitude towards landscape. My night-time photographs may have exposure times of an hour or more.
Just as with wilderness photography, with urban architecture photography I strive to exclude the signs and indications of day to day human presence; people, parked cars, traffic, etc. from images. I strive for a timeless appearance where the streets and buildings are the main players; the subjects not the stage, in the image without distraction from the bustle of humanity. This can be exceptionally difficult; shielding my lens against every passing car can double an exposure time and require me to be constantly attentive throughout the exposure, otherwise perfect compositions may be rejected due to a single parked or passing car.

Many shots in this portfolio, whilst looking simple are the product of repeated, painstaking attempts to capture a pure image. And whilst I use photoshop for my 'darkroom' corrections of contrast and density, I never use it to delete unwanted subject elements.
I consider myself a print maker as much as a photographer and the digital inkjet process has, for me, opened up a whole new level of precision in the craft of image making. After decades of darkroom work I am glad to have discovered a process that frees me from hours of darkened rooms and toxic chemicals. Having said that I am currently experimenting with the 19th century Gum - Bichromate printmaking process.
I have work shown in exhibitions in Adelaide, Cairns, Toowoomba, Natimuk, Cygnet and Ballarat. My work has been published in RACT, Wild Magazine, Australian Conservation Foundation & Wilderness Society Calendars and Diaries.

My first solo exhibition, 'Peripheral - Images of Regional Victoria', was shown at The Goat Gallery in Natimuk in December 2011 to great success.

I am currently living in Wodonga, Victoria.

I exhibited my work with the Ballarat International Foto Biennale Fringe Festival at The Unicorn Cafe at 131 Sturt St. from 19 August - 17 September 2017
Exhibitions:
Ballarat International Foto Bienale - 'The Prints of Darkness' at The Unicorn Cafe, Ballarat - 2017

Solo Exhibition: 'Peripheral' at The Goat Gallery, Natimuk, Vic - 2011

Group Exhibition at the Natimuk Frinj - Skylines Gallery - 2011
HAEG Art exhibition, Cygnet, Tasmania - 2007
McGregor Prize exhibition, 2 prints highly commended- Toowoomba USQ - 2005
Java Joes Cafe Gallery, Cairns - Prints on Display - 2004
Two prints acquired by The Horsham Regional Gallery for their permanent collection